"My role as a counselor is not to 'heal' a person, but to help them find their own innate capacity for healing. As a counselor, I provide a safe and personal environment so that a client can begin to feel seen, heard, supported and understood." ~Bibiana Potter
---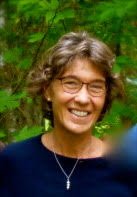 Bibiana Potter is an Organic Intelligence (OI) Practitioner and a Somatic Experiencing (SE) Practitioner in her last year of training. Before becoming a trauma-informed counselor, Bibiana taught for 27 years as a Waldorf Early Childhood teacher. 
She has been a student of Diamond Approach Ridhwan School and is a student and practitioner of the Shambala teachings and meditation as taught by Kit Kanohoaloha Wynkoop in his groundbreaking Path of Meditation that Leads to Living ALOHA.
Bibiana is a native German speaker and, in addition to counseling, she teaches German language to students of all ages and serves as a mentor and advisor at Waldorf schools.
She is a volunteer with "Emergency Pedagogy", a Waldorf based organizations of trauma-informed first responders in disaster areas around the world. Bibiana has been practicing OI and SE for several years and offers online sessions with a sliding scale rate of $65-$90 per session.
Through her own spiritual development and healing journey, yoga and meditation have become an essential part of her life. Bibiana lives in Honolulu, Hawai'i and enjoys swimming, hiking, reading, arts and craft and spending time with family and friends.
To get more information or to make an appointment, please contact Bibiana directly: bibiana@hawaii.rr.com